The following procedure copies most part of Zubuntu into internal memory. Unfortunately the complete distribution is too large to fit completely into the little memory available, so a part has to be made available on SD, CF or Microdrive (see the Postinstall for more info).
It is important to now that the only drawback currently is that you have to keep your SD card inserted during use of Zubuntu, since (on default) the
/usr
and
/var
directories are located there. If your model has a Microdrive, you'd better install these two directories there, in order to make this disadvantage disappear.
Disclaimer:
First of all, be aware that, if you've previously had the original Sharp ROM, Cacko, pdaXrom or any other distro running from internal memory, you will lose it permanently after following these instructions. If you're not sure, be sure to make a NAND backup before continuing. How to make a NAND backup is described
here
(kind of).
1. Making preparations
These instructions assume you have a Zubuntu installed as described
here
. There are plenty of other possible installations, but I'll only cover the default here.
Download the following two files:
| | |
| --- | --- |
| | MD5: 01a45a3a6aa71dde9611160e943bcd1e |
| | MD5: 45a629b112088394efad3aeba61dc861 |
2. Start Zubuntu
After setting up Zubuntu, you should be able to select it from the bootmenu. Select it there so Zubuntu boots and login with the root user account. Copy the downloaded files from step 1 onto the Zaurus.
3. Installing required packages
Install the mtd-utils package downloaded in step 1 by executing the following command:
dpkg -i mtd-utils_1.1.0+git-r1_arm.deb
4. Copying Zubuntu
The rest is just a matter of copying over the base system. Since this can be tricky, I've created a small script to do the dirty work. Run the script by entering
./zubuntu-flash-install.sh
.
You'll be asked on which memory partition you want to install Zubuntu. Possible options are the second and third memory partition, being the Root and Home partitions of the original Sharp ROM. Default choice is the third partition since this is the largest one (about 90Mb on Spitz/Akita). After that the partition is erased (permanently!) and most of the Zubuntu system is copied from your currently running system. This also means that all adjustments, settings and configurations are preserved.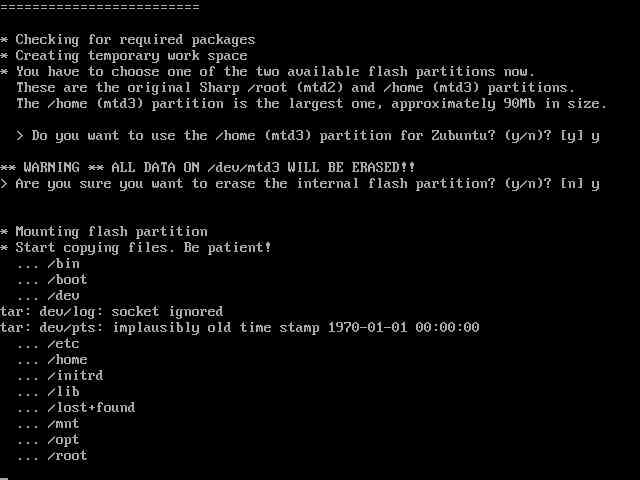 You can safely ignore the messages 'ignored sockets' and 'implausible old time stamps'.
5. Post install stuff
After running the installation script there are still a couple of things to do.
** /etc/fstab adjustment
Remove the mount point to the Zubuntu default installation (/dev/mmcblk0p1 on default) from the
/etc/fstab
file.
** Adjust the symbolic link to /usr and /var
Since the complete Zubuntu distribution is too large to fit completely into internal memory, both
/usr
and
/var
have to be made available on SD, CF or Microdrive. The installation script creates two symbolic links for this purpose, pointing to
/dev/mmcblk0p1
, being the first partition on your SD memory card. You need to adjust it only if you've installed Zubuntu on a partition other than the first one on your SD memory card.
** Adjust /etc/rc.S/00mount-zubuntu.sh
This file mounts the Zubuntu default installation early in the boot process, since files in
/usr
and
/var
are needed during boot-time. The mountpoint used in
/etc/rc.S/00mount-zubuntu.sh
is
/dev/mmcblk0p1
on default. You need to adjust it only if you've installed Zubuntu on a partition other than the first one on your SD memory card.
6. Reboot from internal flash memory!
Now reboot your Zaurus (run
reboot
). You'll notice that there's a new option in the bootmenu with a litte memory icon in front. Select that option, and Zubuntu boots from internal flash memory!
7. Footnote
Please give me your feedback, report problems, share fixes, enhancements etc.
Last but not least I want to stress the fact that visiting the advertisements on the left or (even better) use of the Donate button is much appreciated!
Have fun!
[ 17 comments ]
( 972 views ) |
permalink
|





( 3 / 2423 )
---
here
.
I've tested this on my Zaurus SL-C1000 and SL-C3100 devices. I also succeeded in running Zubuntu from internal flash on the SL-C1000, which is pretty darn fast!
I still have to document how to get Zubuntu running from internal flash. I'll post it here when ready.
Update:
Use xbindkeys-config to add new keyboard shortcuts. This is how the brightness keys are controlled currently. It's possible to use xautomation (xte), so Fn-Up, Fn-Down, Fn-Left and Fn-Right now moves the mouse cursor. Quite cool!
Update:
I'm rebuilding the kernels for all models with build-in support for sound, bluetooth, pcmcia and infrared. I'll also include modules for more (wireless) network adapters. I'll report here when they're ready!
Important update for Spitz owners:
Please re-download and install the
bootmenu-kernel
and the
root-addition
archive. This should solve some of the problems reported.
Keep those advertisement clicks coming, but only if they're sincere of course. Or you can use the Donate button on the left, Feel free to do so!
[ 64 comments ]
( 20822 views ) |
permalink
|





( 3 / 2365 )
---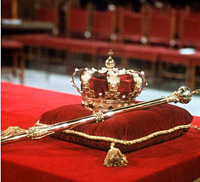 A bit late, I know, but to my astonishment I
just read
that our prince of Orange, WimLex, has bought himself an iPhone in november 2007 already in an Apple store somewhere in New York.
I just tried to call him to ask him why he didn't told me anything about how to downgrade, jailbreak and activate the phone here in the Netherlands, but he doesn't seem to know how to get his voice mail up and running, because I'm unable to leave any messages. Could this be due to a memory overflow?!
[ add comment ]
( 5 views ) |
permalink
|





( 3 / 2395 )
---

An apple a day keeps the doctor away, my mom used to say. The thought of these wise words crossed my mind while standing in the Apple store on my trip to the united states. My mom meant different apples of course, I knew that, but these Apples were looking really juicy!!
So, to make a long story even longer, I decided later that week that I wanted an iPhone, so I went over to the Apple store again and bought myself one. Since I knew that the phone would be usable only with a two-year (US) contract with AT&T I did some investigation first just to make sure it would be possible to use it here in the Netherlands using my current carrier provider contract.
Browsing the Net I entered the great new world of OOB's (Out Of the Box), Jailbraking, Firmware downgrading, activation, unlocking and the likes. Impressive, I didn't had the time to read all the details at that time, but I knew enough, namely that it would be possible with some effort.
After buying and unpacking the device a few things were striking. Apple really knows how to create beautiful looking devices, but I've
NEVER
seen any device with so little instructions. Just a small paper saying you have to browse to a website for full instructions. After charging, the device just says "Connect to iTunes to activate". That's all, no further functioning whatsoever. This is weird!
Well, back in Holland I started to read all about unlocking the device. I was glad I did that first, because otherwise I would probably already upgraded the device to the last firmware, which would have made unlocking a real drag. Anyway, after following the excellent step by step guide from the
hackint0sh
guys the iPhone was usable as a luxurious iTouch after some time. No phone function, that was still a no-go area, since this hasn't been hacked by means of software until now as far as I know.
So I searched for hardware solutions, found a seller on eBay selling some Chinese SIM manipulation card, and took the risk of buying one. Two days later the SIM arrived, and following a simple online guide
here
my iPhone displays Vodafone as a provider now, and I'm the happy owner of a fully working iPhone. Not bad at all, and that within just a week time!
[ 3 comments ]
( 61 views ) |
permalink
|





( 3 / 2219 )
---
<<First
<Back
| 1 | 2 | 3 | 4 | 5 | 6 | 7 | 8 | 9 |