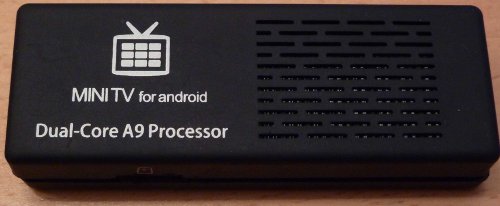 Luckily there are a few hardware manufacturers that understand the value of GPL. Or it may be that they don't understand the chinese license agreement from Rockchip. Or it may just be that they understand the underlying GPL agreement, unlike Rockchip. It may be a coincident also, but all the manufacturers providing some of the Rockchip adaptations of the Linux kernel seem to be based outside the people's republic of China. Anyway, it doesn't matter how, what matters is that we finally have a few snapshots of the Rockchip linux kernel adaptations after all.
Unfortunately, from all current available snapshots a lot of the essential code is missing. This makes it a difficult process to get all the hardware components working. Some code parts are delivered in binary object files only, which prevents you from making changes without going through the time consuming process of disassembling and reverse engineering.
I tried to upgrade the MK808 kernel to a higher version of the linux kernel a while ago. Reason for this is to apply common (mainline) patches and enhancements and to add some new features as well. I failed miserably. The device didn't boot, and I came to the point that I had no ways to find out what error(s) I had made. The kernel died early in the boot process. This is a common problem in kernel development. One way to find out what goes on during the boot process is the use of a serial console. I saw
this great blogpost
a while back about the UG802. It's a similar device using the same Rockchip RK3066 CPU. Although the PCB layout is completely different of course, I imagined that PCB designers would always create ways to debug low-level problems like I had. This is easy to say with the little knowledge of hardware that I have ;-) I looked at detailed images of the MK808 PCB and saw some connector pins that could indicate the possible use of a serial console.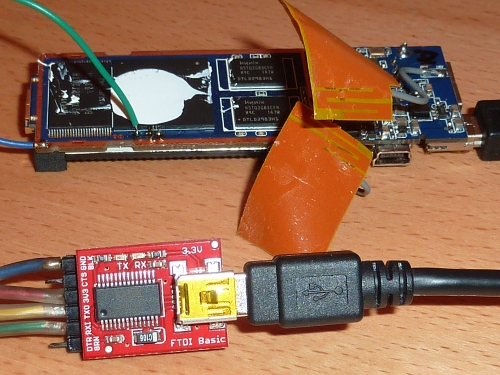 This is where my brother comes in. He has a strong hardware background, always messing around with Arduino's and the like. I asked him if it was as easy as I thought it would be. The short answer was... No, it's not "just" soldering three wires onto the MK808 mainboard and connect them to the serial port of a PC. You have to know, I'm a software guy, so in terms of background my brother and I come from two completely different worlds. He tried to explain the importance of voltage conversion for instance. The PC using 12V whereas the MK808 only uses 3.3V. Talking about the risk of blowing up the device if not being careful. Or why it doesn't make sense to "just" replace the Wifi antenna with a bigger model. I have to say, most of this is all way beyond the scope of my understanding!
Anyway, to cut an already long story a little shorter, my brother came visiting me saturday afternoon and we took the plunge and started to mod the MK808. What I suspected was that the three pins just outside the CPU area were meant for debug purposes. Like on the UG802. This was a long shot of course, but that was just my simplistic way of thinking :-)
With my newly bought soldering iron, multimeter, connectors and a
FTDI serial to USB breakout board
we started checking out these three pins. We were in luck. The first pin we checked was the receive (RX) pin for a serial console. Tadaaaa! The MK808 booted, and we saw console output on the PC. Wow! After that it was easy to guess the transmit (TX) pin, having only two more pins left, leading to a complete working serial console in no time. How cool is that!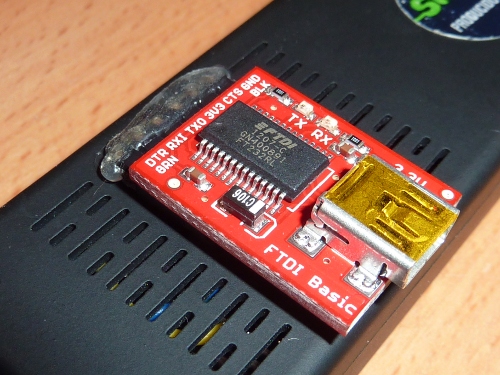 Most time went into putting everything back together. The heatsink had to be put back in place and we needed to get the wires connected to the FTDI board outside the case. We made a connector on top of the device so the FTDI board can now be easily connected and removed if needed. Look for yourself, I think it looks slick, and more importantly, it works perfectly well!
I couldn't have done this without the help of my brother, so all credits go to him. Thanks bro, a job very well done!
Now back to kernel hacking, so hopefully more on that later :-)
For a detailed series of hi-res photo see here
[ 10 comments ]
( 443 views ) |
permalink
|





( 3 / 4303 )
---
<<First
<Back
| 1 | 2 | 3 | 4 | 5 | 6 | 7 | 8 | 9 |
Next>
Last>>