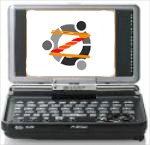 Just a quick note to say that I've just uploaded Zubuntu v2.0. I think it's stable enough, but you'll let me know soon enough I guess!
Zubuntu v2.0 is based on Ubuntu 9.10 "Karmic Koala" and is using the latest linux 2.6.31-rc8 kernel.
For all of you lucky enough to own a Spitz (SL-C3000, SL-C3100 and SL-C3200) please
download the root filesystem
and the
root-addition archive
containing the device-specific kernel and the kernel-modules for Spitz,
Please use the
installation instructions
from the previous version.
More info on this later. Now I need a good nights sleep first!
[ 26 comments ]
( 1848 views ) |
permalink
|





( 3 / 36366 )
---
<<First
<Back
| 1 | 2 | 3 | 4 | 5 | 6 | 7 | 8 | 9 |
Next>
Last>>