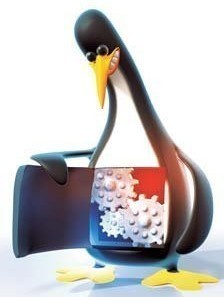 After hours and hours of trying, interpreting and changing of code, problem guessing, debugging, reading logs, kernel rebuilding and device flashing I finally succeeded in waking the Zaurus up after suspending it. Man, you wouldn't believe how much time I spent on getting something "simple" as turning On and Off the device to work.
So, result is that since this afternoon I have the latest 2.6.30 kernel working on my SL-C3100. There are still some things to fix, but most things seem to work... finally!
Update:
Some of you already requested a link to download the kernel, so here it is then. The 2.6.30-rc2
SL-C3x00 kernel
(MD5: 43b691cc05a3c1aa694a287b34aefc23) and the corresponding
SL-C3x00 modules
(MD5: bc13ae45d2e79e6987d9ba60f75fa206) are both highly experimental. Bear in mind that, as said, some things need to be fixed.
Update 01-05-2009:
I've build the latest 2.6.30-rc4, this time with support for CPU frequency scaling and Android and I added various wireless LAN drivers (as modules).
Update 08-05-2009:
New update using the latest 2.6.30-rc4 kernel. This version fixes the screen flickering and the unexpected (hard!) hangups. I had to disable the CPU Frequency Scaling to get it stable, so I guess that needs more work. Until now this one is
very
stable. I've added more kernel modules as well. Since the previous version was buggy I've simply overwritten it with the new one. Please re-download!
The kernel should work on the SL-C3x00 (Spitz) as well as the SL-C1000 (Akita).
2.6.30-rc4 kernel:
Download
(MD5: d92771c86cd7c53cabd1bd216eac5a0f)
Kernel modules:
Download
(MD5: 377c155df6fd1fc569188ddafa282af6)
Again, please give it a try and give me feedback on your findings!
[ 32 comments ]
( 1161 views ) |
permalink
|





( 3 / 81667 )
---
<<First
<Back
| 1 | 2 | 3 | 4 | 5 | 6 | 7 | 8 | 9 |
Next>
Last>>