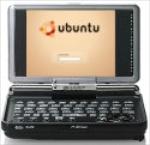 There seems to be a lot of interest in my Ubuntu project, according to the number of visitors on my blog in the last couple of days. This all thanks to
this article
on LinuxDevices.com and
this one
on engadget.
I would like to add that although the goal for me is to get this working on my Zaurus, there's not much Zaurus-specific in the distro at the moment. I guess it should perfectly work on other devices, like the Nokia N810 for instance.
In the meantime I'm heading towards version 1.0 faster than expected. I have a full Ubuntu desktop installed now, including Gnome, gdm, Firefox, the whole lot. Most of the errors in the 0.1 release are solved already.
This distro is currently 215Mb in size (stripped and compressed). I don't know if it's worth uploading, because it's so darn slow. Maybe I just try the much lighter enlightenment as the default WM, I haven't decided yet, as I'm still experimenting.
I'm planning to upload two different flavors, one being the ubuntu-minimal and the other being the ubuntu-desktop.
Last but not least, any help on this would be much appreciated. This won't work if I have to do this all on my own. So, drop me a line using the
Contact Me
option from the menu on the left, or email me (omegamoon at gmail.com)
[ 2 comments ]
( 137 views ) |
permalink
|





( 3 / 2316 )
---
<<First
<Back
| 1 | 2 | 3 | 4 | 5 | 6 | 7 | 8 | 9 |
Next>
Last>>