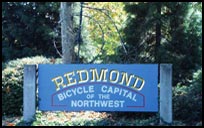 I guess I shouldn't complain, getting the opportunity to travel to the United States, expenses paid by the company I work for. I'll be at Micro$oft headquarters in
Redmond
for a complete brainwash. All existing and new technology will be shown there, so we know how to create enterprise solutions the M$ way.
Worst case scenario, I won't be able to speak the word "Linux" out loud, and I dump my Zaurus for a PocketPc. That's something to look forward to ;-)
So expect no updates nor mail reading for the oncoming week. I hope I'll be able to read a book, so next week there will be a different "Cover to cover" finally.
[ 5 comments ]
( 133 views ) |
permalink
|





( 3 / 2170 )
---
<<First
<Back
| 1 | 2 | 3 | 4 | 5 | 6 | 7 | 8 | 9 |
Next>
Last>>